Posted by Amy Stirling on 2nd Oct 2020
The uncertainty of the world right now, combined with the dark nights drawing in, is understandably having an affect on our state of wellbeing. If you're feeling fatigued, have heightened anxiety or feel tense, it's especially important that you take time to practice self-care.

Self-massage is a great way to do this. It has many proven benefits, both physically and mentally and should be practiced regularly to promote wellness and relieve tension.
With our new self-massage bundle, you can choose between Spa Detox and Muscle Ease body oil, with a Revitalising Sugar Body Polish and a free wooden massage tool.

The bundle costs just £39, a saving of £18 on the normal retail price. But we have limited availability of the massage tool, so the offer will only be available while stocks last.
Click here to view on website.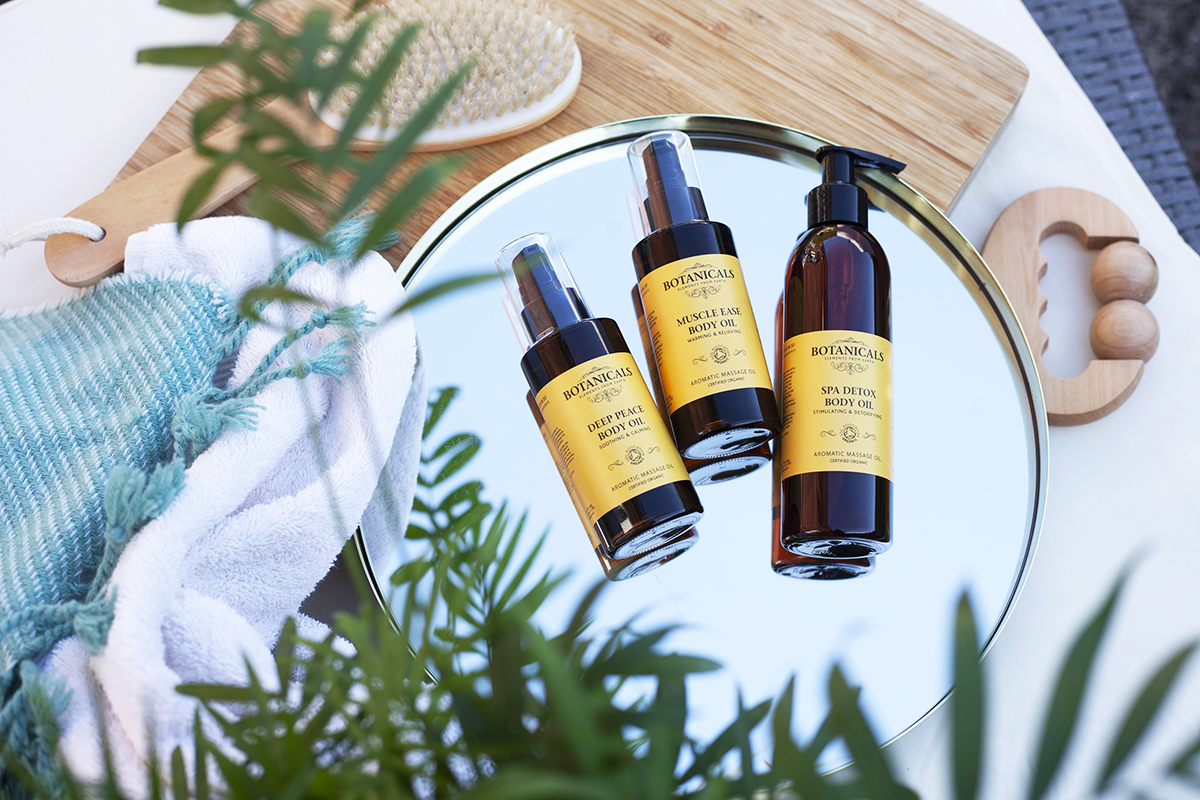 Botanicals Body Polish
Preparing the skin is essential in reaping the benefits of self-massage. Use Botanicals Body Polish to exfoliate dead skin cells so that the beneficial properties of the aromatic oils can be fully optimised. (Dry and flakey skin acts as barrier, preventing the oils from being absorbed by the skin.)

To use: With slightly damp hands, massage the Body Polish into your skin enjoying the sensation and beautiful aroma. Rinse away under a warm shower and wrap yourself in a warm towel.
Your Personal Massage Ritual
Choose between Muscle Ease Body Oil (with wooden ball roller or foot roller), or Spa Detox Body Oil (with cellulite massager or foot roller).

When practicing self-massage, it is important to listen to your body's needs and follow your intuition.

Put on some relaxing music and warm the oil slightly. Then apply a liberal amount to both hands.

Taking your time, massage every part of your body from your head to the soles of your feet, and then focus on your palms and the back of your hands.

Massage your legs and arms in the direction of the heart, using circular motions on your joints and long strokes on your muscles.

Tuning into your body, identify the parts which hold the most tension, and give them some extra loving care and attention.
Muscle Ease Body Oil
Muscle Ease is a warming, indulgent organic body oil with a deeply soothing aroma to relieve tired muscles, aching joints and eliminate tension.

Invigorating Black Pepper and ginger essential oils warm the body, boost circulation and relieve stress whilst an indulgent blend of frankincense and rose geranium soothe and replenish.

Work the wooden massage roller firmly over your body to help relax your muscles and relieve tension.
Spa Detox Body Oil
Spa Detox Body Oil is an organic, toning body oil with an invigorating aroma to promote the elimination of toxins, strengthen the skin and improve skin texture.

Stimulating organic Cypress & Sweet Fennel essential oils help to tighten, tone and promote detoxification whilst a purifying blend of lavender, peppermint & rosemary replenish and balance.

Lay the wooden cellulite massager on dimpled areas of skin and move in a large circular motion. Use enough pressure to stimulate, but not hard enough to cause pain, for as long as feels comfortable to you.