In this latest interview, we meet Sarah Santa Cruz, a mobile holistic therapist who lives and works in the beautiful surroundings of sunny Majorca. Sarah tells us why she loves her job and why she loves using Botanicals in her face and body care treatments.
Tell us about yourself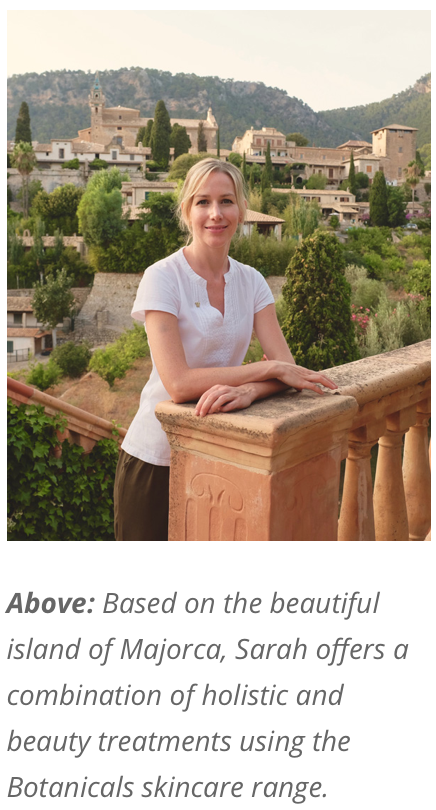 My name is Sarah Santa Cruz. I'm originally from Surrey but since 2005 (with three years in London in-between), I have lived in Majorca. My Argentinian husband and I live in a beautiful mountain village called Valldemossa, in the North West of the Island.
Tell us about your business
I run my own business offering mobile holistic beauty treatments to clients in their private homes, estates and boutique hotels on the Island. I also run the treatment room at Relais & Chateaux Hotel Valldemossa.
I offer a combination of holistic and beauty treatments such as massage, reflexology, cupping, reiki, ear candling, Craniosacral therapy, facials, cosmetic acupuncture, cellulite treatments, manicure, pedicures and waxing.
For my treatments, I use the Botanicals skincare range and also offer in-house blended aromatherapy oils.
My main focus is to treat each client individually and offer bespoke treatments. One of my most popular treatments is my signature treatment. It lasts 90 minutes or two hours, and combines a mixture of techniques, to satisfy my clients' needs on that day.
I also have a passion for facials and specialise in natural anti-ageing facials, using lifting massage techniques and cosmetic acupuncture combined with Botanicals skincare serums and oils for best effect.
What was your journey into the therapy business?
I always knew I wanted to study beauty therapy from a young age. So when I finished school at 16, it was the natural step to go straight on to beauty college. Once I started studying I became interested in the holistic side of the industry, but also loved the 'feel good factor' clients felt after receiving a results driven beauty treatment.
Over the last fifteen years I have continued to learn new therapies and have been lucky enough to have worked in some luxurious locations, such as La Residencia Hotel & Spa in Deia, Majorca. I also ran the treatment rooms at Fortnum & Mason in London.
Starting my own business, offering therapies and products that I have selected myself, and providing that personal touch, has been the highlight of my career so far.
What do you love most about what you do?
The best thing about my job is making people feel good. It's nice to get to the end of the day and think you've helped people to relax and feel positive about themselves. I also love the fact that I get to do this in beautiful surroundings and close to nature, whether it's views to the sea or a lovely pool.
What's been your greatest challenge or learning experience?
After working in bigger establishments such as hotels and department stores, where the beauty salons are often seen as a side line and not really given much focus, the greatest challenge for me was gaining recognition for my holistic beauty treatments business.
I learnt that by offering an honest, open and friendly service to your clients, with the focus on high quality treatments, you gain a regular clientele.
What made you choose Botanicals for your business?
Having worked with lots of spa and beauty brands, I was keen to find a brand that provided results as well as experience ie smell, texture, aromatherapy for wellbeing. I am also all about treating the body kindly so wanted to find a brand that was truly organic, knowing that the quality of organic oil would also have a greater effect.
Also, as a mobile therapist, I wanted products that would be easy to travel with.
Having worked with many spa brands over the years, Botanicals encompasses everything I look for in a product brand - aromatherapy to work on all senses, organic skin feeding ingredients and also great results! Myself and my clients are delighted with the products.
How do you intetgrate Botanicals into your business to make it such a success?
Botanicals really compliments the treatments I offer. For me it's about the whole package - mind, body, sprit - and I feel Botanicals products work on all these levels too.
My clients also feel well cared for as they know the products being used on them have been made in small batches and organically.
What sort of customers choose Botanicals & why?
I feel like it suits many types of clients but I do find the ones that gravitate towards them more are the ones that are in touch with their own health and wellbeing. I also find it suits those who like to feel totally pampered with products that offer great smells and textures.
What is your favourite Botanicals product and why?
Ooo that's tough, but if I had to choose one it would be Radiance Face Serum. I always see results on clients straight away in facials and it gives skin that dewy look that I just love.
Do you have any client success stories using Botanicals you'd like to share?
At the start of the season a soon-to-be bride visited me for a facial with concerns of dry, patchy skin. She changed her whole skincare range at home to the Botanicals Rose and Camellia range.
I have just seen her to do a facial in preparation for the wedding and her skin looks transformed, no more dry patches - just perfect bridal skin. Just brilliant!
What does the future hold for your business?
To continue building up my business and reputation on the Island and increase the retail side of the business. Also growing the wellness side by introducing Pilates classes to clients as I am studying to teach at the moment.
---
Sarah Santa Cruz, Valldemossa, 07170, Mallorca, Spain
Tel: (+34) 620 453 597
Email: sarah@sarahsantacruz.com
Website: www.sarahsantacruz.com