Posted by Amy Stirling on 24th Oct 2019
Marion has beautiful, strong and healthy nails, and is proud to have them on show in her busy job as a front desk receptionist. But Marion's nails weren't so beautiful when we first met her.
Marion has given us permission to share her story, in the hope that it will help others - who are a desperate as she once was - to find a remedy for a fairly serious nail-health condition.
This is what Marion told us:
"I was diagnosed with a condition called 'yellow nail syndrome', which is a painful, unsightly condition, where the nail lifts away from the beds.

"I had searched endlessly for a remedy or solution - both through my GP and online, but nothing helped.

"Then I discovered Botanicals Hands & Nails Replenishing Serum and with regular use, my nails started to improve - so much so that I now have strong, healthy nails.

"I still use the serum - and wouldn't be without it. I do wear nail polish, but always apply the serum first."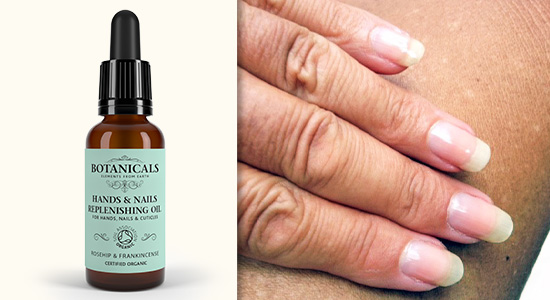 Botanicals Hands & Nails Replenishing Serum is a multi-tasker for hands, nails and cuticles.
The key ingredients - frankincense, sweet fennel, rose hip, carrot and apricot oils, create the perfect synergy for protecting and strengthening nails, as well as providing anti-aging benefits to the hands.
When applied under nail polish, the serum not only feeds the nails with important nutrients, but also creates a barrier to protect the nail from the damage caused by nail polishes and gels.