Laura Evans runs Perfectly Pampered Cayman, a mobile spa therapy service covering the whole of Grand Cayman in The Caribbean. In this latest therapist interview we talk to Laura about why she loves working on the Island and why she uses Botanicals in her treatments.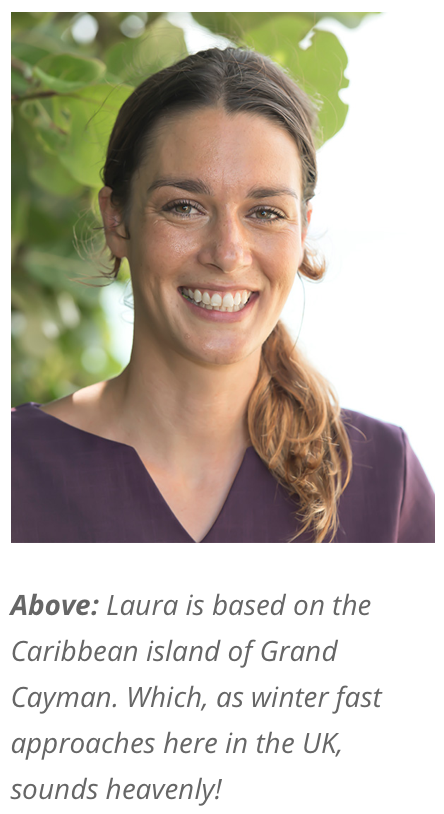 Tell us about yourself
I'm a busy mum, juggling running my therapy business, Perfectly Pampered Cayman, with looking after my wonderful two and a half year old daughter.
I studied a BTEC National Diploma in Beauty Science in the UK and have 10 years' experience working in the industry. I have always loved travelling and worked as a beauty therapist in Grand Cayman on and off for 8 years. I've also worked in Jordan.
Tell us about your business
Perfectly Pampered Cayman is a mobile spa service providing facials, massage, manicures and pedicures at client's homes, offices and holiday accommodation all over Grand Cayman. Botanicals skincare is used in facials and massage treatments.
What was your journey into the therapy business?
I always knew I wanted to be a beauty therapist! As soon as I left school I went straight to college to study full time for 2 years. Whilst studying, I also worked in a beauty salon to gain experience. I carried on working at the salon when I finished my training and then moved to Grand Cayman. I'm a people person and have always loved meeting and talking to people. I also love helping people and making them feel better about themselves.
What do you love most about what you do?
No two days are the same and that's what makes my job so exciting and fun. I enjoy sharing knowledge and encouraging my clients to look after their bodies. Giving someone the power to understand how their body/skin works and what will work for them to improve their concern is a major job satisfaction for me.
What's been your greatest challenge or learning experience?
Being a mum! Going mobile was definitely a little daunting at first but I love that I get to go to some truly beautiful properties in Grand Cayman and nine times out of ten my office view is looking at the beautiful turquoise water. I also love that I have flexible hours to spend time with our daughter.
What made you choose Botanicals for your business?
People are becoming more aware of what they put on their skin. I also feel very strongly about offering my clients products that are organic, not tested on animals, vegan and Soil Association approved.
I chose Botanicals because these award winning products are truly amazing. They are certified organic, include only natural ingredients and smell wonderful. My clients always comment on how amazing their skin looks and feels after their treatments.
How do you integrate Botanicals into your business to make it such a success?
I use the Botanicals skin care range for facials. It's great as it covers all skin types and concerns for my clients. The products also smell divine - everyone comments on how lovely they are. I also use the Botanicals organic Massage Oils as they offer a great range of oils to again suit my client's needs.
What sort of customers choose Botanicals and why?
Most of my clients are looking for organic, natural and not tested on animals skincare products.
What is your favourite Botanicals product
I love the Radiance Facial Serum! You don't need a lot of this product so it lasts a long time. It smells amazing and my skin stays moisturised all night plus the smell is amazing.
What does the future hold for your business?
Eventually I would like to have a spa here in Grand Cayman. I would still offer a mobile service but it would be nice to have both.
---
Laura Evans Perfectly Pampered Cayman Mobile Massage & Spa
Tel: (+1345) 925 6267
Email: info@perfectlypamperedcayman.com
Website: www.perfectlypamperedcayman.com
Facebook: https://www.facebook.com/Perfectly-Pampered-422827754591465
Twitter: https://twitter.com/PamperedCayman
Instagram: https://www.instagram.com/perfectlypamperedcayman/