The Treatment Room is a home-based spa salon run by Jessica Godfrey in Bournemouth, Dorset. With its famous Jurassic coast line and miles of sandy beaches, the setting is truly breath-taking.
Jessica had a successful opening of her new therapy room last month. And Botanicals was delighted to help the launch go well by providing a range of samples for guests to take with them in a goody bag.
"All my clients love the Botanicals products, scents and textures and have noticed an improvement in their skin's complexion," said Jessica. The day obviously went well with Jessica adding; "The business has been going from strength to strength ever since."
Jessica had been practising therapies for 16 years and holds qualifications NVQ 2 & 3 in Beauty Therapy, as well as Holistic Diploma with distinction. She specialises in Botanicals Facials, Botanicals Body Treatments, Reflexology, Indian Head Massage, Hopi Ear Candling, Hot Stones Massage & Aromatherapy.
"I believe in treating a person as a whole - the mind, body and soul - and working on all my clients' senses during treatments", said Jessica. "I've carried out therapies on a wide range of clients, from all walks of life and backgrounds.
Botanicals was the perfect choice
"What I love is that no one person is the same, which is why Botanicals was the perfect choice for me as it lets me tailor-make my treatments to the client's individual needs, and keeps my job challenging and rewarding."
Jessica gained work experience whilst training for four years at Bournemouth & Poole College. She then went onto manage 'Oceanic' for four years, a salon in the Canford Cliffs area of Poole. This lead to working at the prestigious Haven Spa at Sandbanks, Poole for eight years, leaving as Head Therapist at the end of September 2016 to set up her own business.
"Having trained in a wide range of products over the years, I really wanted a product range that was right for my business," explained Jessica. "As I specialise in Holistic treatment, Botanicals works in perfect harmony with what I want to achieve on a professional level. I believe that what we put on our skin is so important and using 100% natural and organic ingredients is the future in skin care."
Jessica says she is looking forward to the exciting year ahead, and to working closely with the Botanicals team. Which is wonderful to hear.
---
Jessica in her new treatment room (right).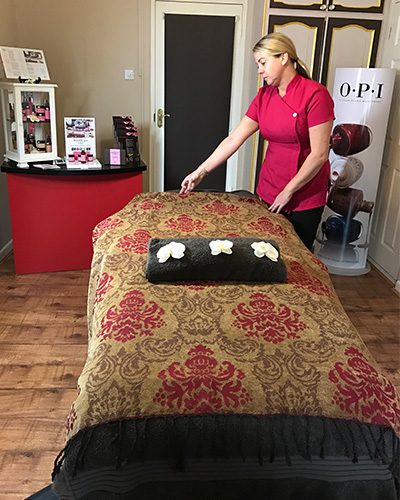 Jessica Godfrey - The Treatment Room, 56 Braidley Road, Bournemouth, Dorset BH2 6JY
Tel: 01202 557292
Mobile: 07772 037994
Email: mailto:

[email protected]
Facebook link: facebook.com/thetreatmentroomdorset